Behold! The rare and elusive book review! Rarely seen on the plains of Sometimes I'm a Story, observe its timid and meek persona as it eats grass. Pay close attention—if it gets any sight of us, we'll never catch up with it!
(Er, yeah. I rarely post book reviews. But I like Ava Jae as a blogger. And as a writer for that matter. Plus I got
Beyond the Red
for free. So. That's what we're doing today.)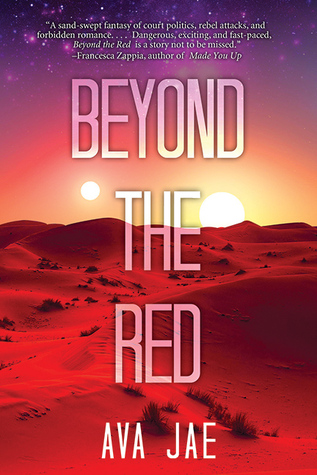 Alien queen Kora has a problem as vast as the endless crimson deserts. She's the first female ruler of her territory in generations, but her people are rioting and call for her violent younger twin brother to take the throne. Despite assassination attempts, a mounting uprising of nomadic human rebels, and pressure to find a mate to help her rule, she's determined to protect her people from her brother's would-be tyrannical rule.
Eros is a rebel soldier hated by aliens and human alike for being a half-blood. Yet that doesn't stop him from defending his people, at least until Kora's soldiers raze his camp and take him captive. He's given an ultimatum: be an enslaved bodyguard to Kora, or be executed for his true identity—a secret kept even from him.
When Kora and Eros are framed for the attempted assassination of her betrothed, they flee. Their only chance of survival is to turn themselves in to the high court, where revealing Eros's secret could mean a swift public execution. But when they uncover a violent plot to end the human insurgency, they must find a way to work together to prevent genocide.

Top 6 Thoughts:
Kora and Eros ::
these two. I love them and hate them, which is actually a good thing because I admire books featuring imperfect or morally questionable protagonists. Kora is my favorite because she's soft and fierce, but all in all, they're sympathetic and make you want to knock heads.
worldbuilding ::
I've got to say… between religion, description, species, language, culture, we get a picture at this hugely complex society and it is AWESOME. Like if it weren't for the villains (and the hatred of humans) (and the outer space) I'd totally study abroad on this planet. Forreal.
fast-paced ::
as a plus, there are not boring, drawn-out explanations that are sooo boring and you want to rip your eyes out; however, sometimes I felt like the plot was ready to move on before I was. I'll need to reread to really enjoy the details.
feels ::
Ava knows how to kill people. That hurt my feels. BECAUSE IT WAS A REALLY GOOD PEOPLE GAH. Although, there are also other feels in relation to kissing and adorableness and whatnot. Those are good too. Just not as good as my dead people.
villains ::
mer. Mer mer mer. I didn't dislike the villains. I feel like I'd remember them in more detail and with more fondness if I reread the book. After the first read, though, I thought they were good for the story, but my heart does not cling to them in a fangirlish fervor. I really need to reread…
ending ::
the ending is mysterious without being urgent. In the event of a sequel I would totally get it and find out where in Kala's name this is going, but I'm also not dying. Despite the loose ends, this could probably work as a standalone (and it might be. I can't remember the news on that and Twitter probably won't help me find tweets from a couple months ago). Either way, it's casually open-ended, and it works for me.
TL; DR:
The characters won my heart, the storyworld was intricate and AWESOME, my feels got bruised in a good way, and even if the villains and pacing weren't my favorite, I would read more.
And, even if there isn't a sequel, I still look forward to whatever Ava Jae writes next! Because it was good writing.
Finally… I don't even know who to thank for my ARC. Ava Jae? Sky Pony Press? YABC? I have no idea, but my thanks to that entity. (#reasonsIdontusuallypostreviews) Anyway:
Beyond the Red
comes out on March 1!
4/5 Stars
Do you plan on reading Beyond the Red?